I'm still translating Nils Asther's memoirs of silent stardom from Swedish. Catch up on parts I and II. And look – Nicole of Strange Fiction is providing illustrations!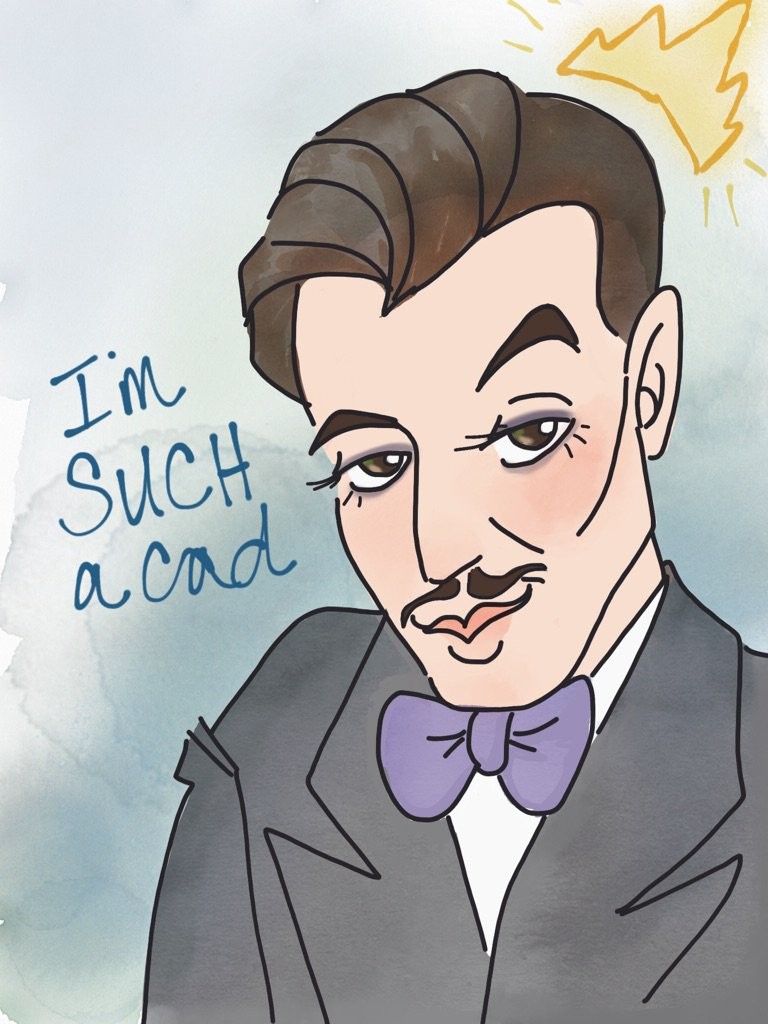 Meanwhile, in the Roaring Twenties…
When he wasn't yelling at him and making threats, Mauritz Stiller liked to tell Nils he was his favourite. He probably told Greta Garbo that too.
Stiller helped the teenage Greta Gustafsson come up with a new name and a new look. He had her lose weight and fix her teeth, chose shoes to make her feet look smaller (Stiller had a complex about the size of his own feet, so hey, why not everyone else's?) and began to cultivate the special something that would make her a star. Rumour had it, her beat her. There was plenty of whispering about Greta Gustafsson. The girls at the Royal Dramatic Theatre called her untalented and ugly, but Stiller believed in Greta with his characteristic possessive fervour, and she adored him.
There was plenty of whispering about Nils, too. He was getting decent reviews for his stage work, plus plenty of film roles, but his fellow students were sure he was only tolerated because he was sleeping with the great Augusta Lindberg. Augusta's exhibitionism wasn't doing much to dispel the gossip. On one occasion, he was forced to climb out of a window mid-session to preserve her honour. She was perfectly happy with her quota of honour, but it was nice of him to make the effort.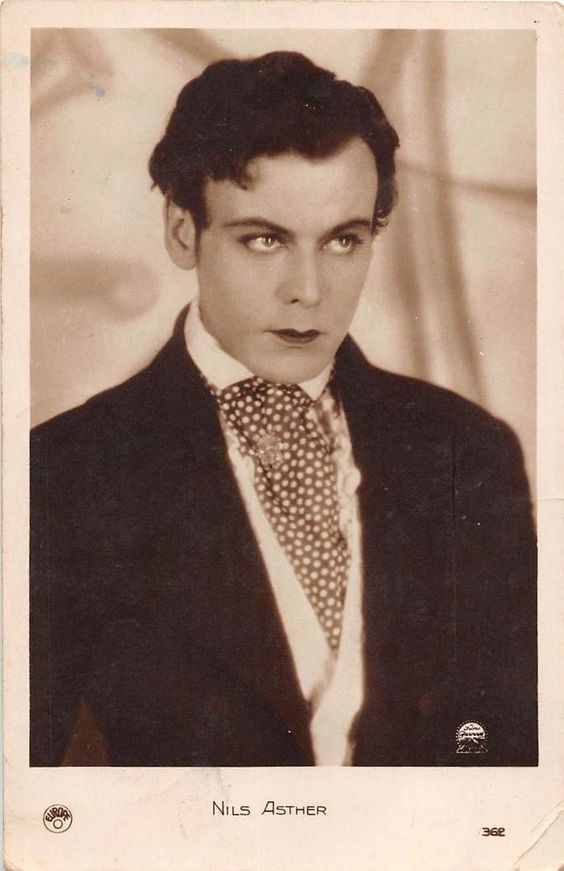 When Nils met Greta, they were both students. Their first encounter would haunt him for the rest of his life. She wasn't anything special to look at, not at first, but then…
"Suddenly she looked up and into my eyes. It felt like I was hit by a thunderbolt. I stared bewitched at her. But it seemed like she did not notice me. Her girlish face seemed to me wonderfully beautiful. My whole body was carried by a pleasant springing sensation, which I never before experienced, and the effects of which I could never completely free myself from. Something strange had happened inside me. The peculiar theatre student had lit a fire of love in me, bordering on bliss. It insisted that I must join with her forever."
Within three days of setting eyes on her, Nils proposed for the first time.
This was typical Nils. Where Greta Garbo was supposed to fit alongside Augusta, Hjalmar, Stiller, Lutzy, the twins, and the estranged mother of his child, I don't know. She wasn't sure either. With grace, she told him she was married to her craft.
Anyway, there was Linde Klinckowström to consider. Linde was a Swedish countess who would become known for daring solo trips across Europe on horseback. She was intelligent and artistic, and Nils being Nils, he couldn't help but flirt with her. They met when she was appearing as an extra in a film, dressed in men's breeches. He said he had a way of falling in love with girls in trousers. Well then, she said, she said she ought to wear them more often. Somehow, "Ooh, I might have to propose", came out of someone's mouth, maybe even hers. At last, said his friends, a nice, relatively normal girl to keep him on the straight and narrow. Straight and narrow were new concepts to Nils, and he wasn't sure what to do with them. Linde presented him to her parents, half-joking about a romance. She was nobility, after all, and though he looked the part, he had a commoner's accent. But Linde's brother was an artist, a good one, and he counselled Nils to leave the acting world and follow his dreams of painting. He and Linde were astute enough to see Nils' self-destructive nature. Film would only encourage it, as would mad love affairs.
It was sound advice, so naturally he didn't take it. Linde and her aura of calm would appear to him in dreams for years to come, begging him to slow down. Gently, she broke off their brief, strange relationship, leaving him free to pursue… more brief, strange relationships.
Oh My God, Stop Falling In Love
The Linde hangover was over. Now Greta Garbo was his one true love.
Where did this alluring creature hang out? Where could he loiter in the hope of bumping into her? There was her house, of course, but any idiot can lurk outside someone's home address (and he did). You've got to think creatively. You have to go somewhere you'll have something to talk about, things to do.
Her father's grave, for instance.
And so he hung around in the snow amongst the headstones. Looking forlorn had always worked on Hjalmar, but it wasn't going to cut it with Greta. What was this 'just friends' concept she was talking about? Nils thought he was losing his mind. Perhaps Mauritz Stiller had threatened her too?
He and Greta actually had a lot in common. They had the same sense of humour and ability to see through bullshit. And Greta had a similarly horrible childhood to Nils, only far poorer:
"It was eternally grey—those long winter's nights. My father would be sitting in a corner, scribbling figures on a newspaper. On the other side of the room my mother is repairing ragged old clothes, sighing. We children would be talking in very low voices, or just sitting silently. We were filled with anxiety, as if there were danger in the air."
This was something they could bond over. Post-divorce, Anton Asther had settled down with his new wife and was producing more children. According to rumour, he hadn't told his new family that his old one even existed. But Nils was becoming well-known in Sweden, and the Asther name was uncommon enough that surely someone would start asking questions. Nils decided to contact Anton one last time. For what, who knows? Maybe acceptance. But Anton refused to meet. Nils had brought the shame of 'sawdust' onto their name, he said. He was nothing but a simple clown.
But like Greta Garbo, the clown was going places. Friedrich Zelnick, one of the most important director-producers of the day, called Nils his 'darling'. Bidding wars started up between directors determined to have him. Nils pretended not to care. He liked to see how far he could push it. "It's all just so boring," he shrugged, which only made the directors hurl more cash at him. Greta was in Turkey, making movies with Stiller. Nils was filming in Berlin, Vienna, and Sicily – doing what? He couldn't remember.
"I have a peculiar talent for forgetting the names of all the bad films I've been in. Guess I'm just lazy."
This may have been more down to his lifestyle than the quality of the films. Depressed by the chaos of his personal life, pining for Greta, he threw himself into further hedonism. Deciding that Lutzy Doraine was now the one and only woman for him, he went AWOL from the theatre to go on a mad dash across Europe to see her while she went travelling. The pursuit of his beloved consisted of a few months of daylight drinking in public spaces, romantic encounters with people who didn't speak any of the languages he knew – none were as bewitching as Lutzy, of course, even the lady with the lovely ankles – and further day drinking. If he could just get all the way to Egypt, maybe he could become like a romantic knight, riding a camel to the pyramids. But Egypt turned out to be full of honking cars and strewn with rubbish. And it wasn't really Lutzy he was after. He only ever seemed to want to run away.
In Nils' own estimation, he was "totally deranged" at this point. Hjalmar Bergman, besotted as ever, lamented the behaviour of his "little idiot". Keeping up with Nils was killing him. When Hjalmar wasn't face-down in a mountain of cocaine, he was taking his feelings for his foster son to the brothels. Nils had begun to talk about America. It was the logical next step for his career, and Greta Garbo was already there, making a mark. Hjalmar couldn't bear to lose the handsome youth he had idolised for so long.
After a night of heavy drinking, the writer broke down on Nils' shoulder. Why had nature cursed him with such a repulsive face? Nils did his best to console the older man. Hjalmar had no need of something so trivial as good looks. He had been blessed by the Muses, and Nils admired and loved him for it. But he was missing the point. Bless him, he was quite good at missing the point. In four more years, Hjalmar would die alone in a Berlin hotel, wrecked by alcohol.
Mephistopheles Doesn't Care About Your Hangover
On the 17th of January 1927, Nils spent his 30th birthday alone. He composed himself this message:
"Congratulations on the birthday, you old rascal! Not that you deserve it, but may your future become light and fun, with great success. Well, why not world renown to satisfy your vanity? Beautiful girls, a thousand of them, and coins in large quantities, and good health so that you can enjoy these creature comforts. May all your dreams come true, even the idiotic ones. And when you're drinking in a villa in Italy or Spain, where you can live in peace and with peace of mind, free from ambitions and desires, may you finally get your easel, canvases, brushes and paints. Cheers to you, old boy."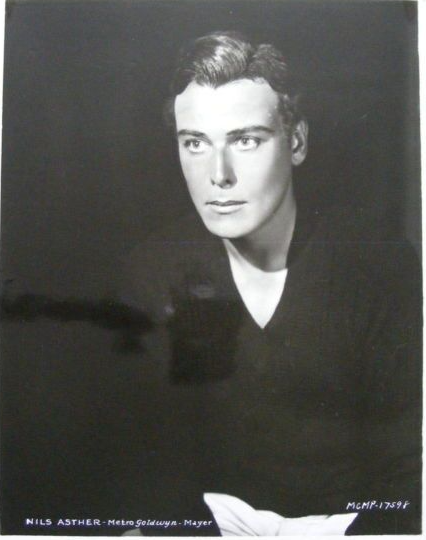 Despite drowning his loneliness in champagne, it was a pretty good birthday. Paramount had noticed this Scandinavian heartthrob and were sending a representative over to Sweden to talk to him right away. But they were beaten to his door by rival company United Artists. Literally. They just barged in.
"I had not yet got out of bed and was waiting for morning coffee, when there came a knock on the door. Unannounced, it was a Mr. Berman from the U.S.A. Hat in hand, an extinct cigar hung from the corner of the mouth. 'Hallo, Asther! You are going to Hollywood. You have a future there. You're the type that the girls will run after.' Uninvited, he had thrown himself down in an uncomfortable chair. He mistook my silence for awe, for he galloped in with a bunch of promises of life in Hollywood. He represented the prominent United Artists and told me what I already knew, that it was owned by Douglas Fairbanks, Mary Pickford, Charlie Chaplin and Norma Talmadge with Joseph Schenk as the Director. I would stay at the finest clubs and a Cadillac would be the only car for me, etc. Where the hell was the coffee…?"
Very politely, for someone hungover in his pyjamas, Nils explained he was flattered but had an appointment to keep with Paramount. To Hell with Paramount, said Berman. United Artists would beat any offer from those shmucks. Also, how do you feel about pretending to be twenty-five?
By the end of the month, Nils would be in America, having the time of his life.
"There is nothing that I more bitterly regret than leaving Sweden and giving myself to the violence of film," he wrote, years later. "Above all, I let myself be caught by the untruthful Hollywood dream factory, where I experienced my life's most terrible nightmares."
It's going to be so much fun, guys.
TBC.