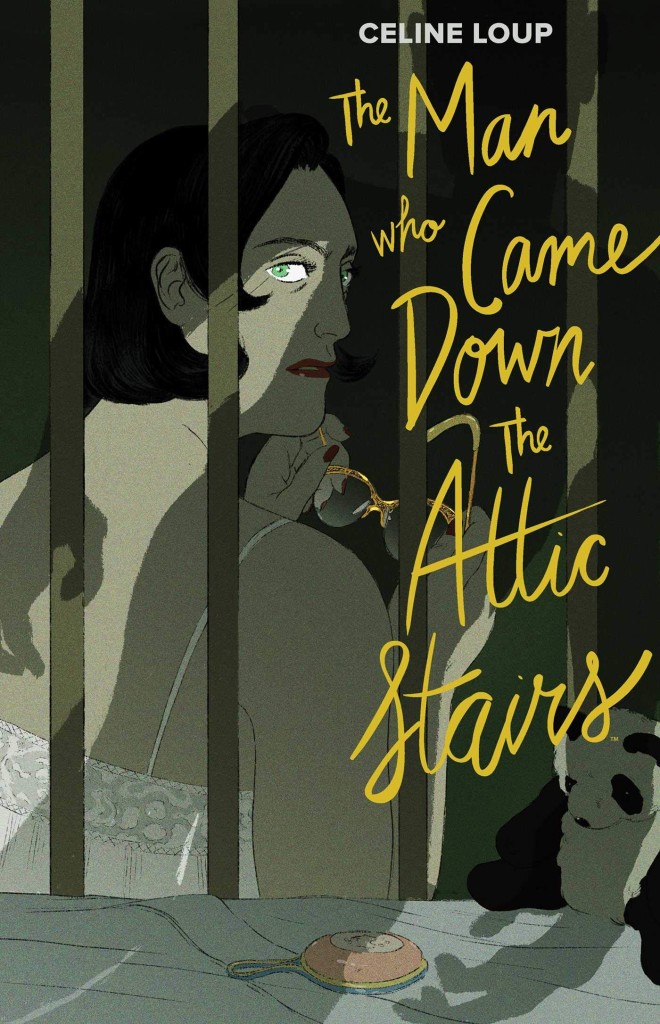 I'm fairly new to comics and graphic novels. Since my surgery I've been reading almost as many comics as novels. Being forced to slow down has had its advantages – I've been getting through some brilliant graphic works. The latest is Celine Loup's The Man Who Came Down The Attic Stairs.
Celine Loup is an award-winning cartoonist seen in The New York Times, The New Yorker, Penguin, and many more prestigious publications. Her work has been honored by The Ignatz Awards, Best American Comics, American Illustration, The Society of Illustrators, and CMYK. She is currently working on Hestia, a serialised erotic Gothic comic set in Ancient Greece.
The Man Who Came Down The Attic Stairs is as Gothic as they come. A loving couple expecting their first child move into a beautiful country house. When Emma's husband goes to open the locked attic room, she hears a commotion and rushes to investigate. She finds her husband unscathed, but somehow… different.
It's a Gothic interpretation of the anxiety surrounding motherhood written at a time in Loup's life when she was ambivalent about starting a family herself and wanted to explore those difficult feelings in a safe place. That's good horror, really, isn't it? A sandbox for our worries.
I really enjoy Loup's art style. It's painterly, and bodies appear soft and natural. Wide sweeping vistas zoom in to uncomfortable close 'shots', raising the tension of isolation and paranoia. I love how Loup conveys loneliness through groups of almost empty panels lingering on repetitive household noises, on tasks that will never be complete. Always present is the baby's scream, in wavering bold text – is she an exhausting burden, or is she trying to warn Emma of something?
There's a lovely consciousness throughout of the absurdity of Gothic, that Castle Of Otranto camp that lovers of the genre embrace. The giant portrait of Freud behind the therapist's head is very funny, but also perfectly illustrates the weight of outdated psychology hanging over women with postpartum depression and psychosis. There's one particular moment of the uncanny that stands out – simple, elegant and absolutely chilling – but I won't give anything away here.
Overall, this is a slice of well-executed psychological horror I'll be returning to. Other reviews have made comparisons to Shirley Jackson, and they are spot on.
A belated happy Halloween to you all!