It's been a good couple of months for writing. After getting some lovely responses over my last short story (it's been nominated for the Pushcart Prize – I got the news in the middle of the night during a bout of chronic pain, and I initially thought it was my medication playing tricks) I've been putting concerted effort into finishing the novella that's been lingering about since last winter. To be annoyingly vague, it concerns the nocturnal lives of mannequins, so, for a bit of research and a break from my desk, I visited Silent Partners at Cambridge's Fitzwilliam Museum.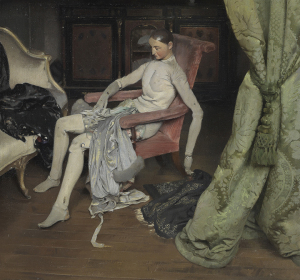 "Silent Partners is a ground-breaking exhibition devoted to the artist's mannequin, that uncovers its playful, uncanny – and sometimes disturbing – history from the Renaissance to the present-day."
The exhibition is far bigger than I anticipated. Three large rooms of artists' lay figures, anatomists' models, and fashion clotheshorses charting the evolution of the human simulacrum from religious devotion to arch Surrealism, along with striking photography and disembodied limbs dotted around the rest of the Fitz.
Life-sized dolls, no matter how beautifully made, are creepy, and the curators understand. From the moment you enter Silent Partners, you're hit by the 'uncanny valley' effect. Viewing Walter Sickert's life-sized wooden lay figure – laid out in a coffin, no less – I realised I was experiencing the same sensation of voyeurism I get when viewing Egyptian mummies or one of Doctor Gunther's anonymous corpses. CT scans add to that sense of the uncanny. The mannequins once had life and purpose. Now they lie still.
To my perverse delight, the Fitz has sourced one of Thomas Edison's horrendous talking dolls. It's about as adorable as a vocal manifestation in a poltergeist haunting. The business went bust in the 1890s because children were understandably terrified. Dolls – blonde and smiling or otherwise – have the power to scare, whether you want them to or not.
Are you still with me after that?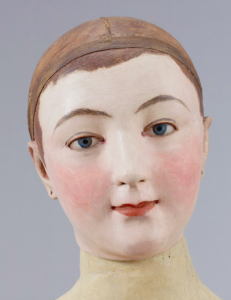 Less unnerving is the lay figure's role as studio companion. Many of the nineteenth century mannequins on display have small, faintly smiling faces and eyes that look submissively up from under the lashes as if to say, "…master?" This of course led to accusations of fetishism – a new term in fin-de-siecle psychology. After all, an artist's lay figure is an idealised, usually female figure, posable, silent, and always there. A kind of sexless mistress, lifelike but lifeless.
Edward Burne-Jones bears the brunt of this. Comparing his Pygmalion series to the vibrant new woman of Jones' time, one label points to Ned's fixation with statue-serene models as a symptom of his own sexual repression. That strikes me as a bit harsh, particularly when looking at his famously fiery lover, Maria Zambaco. You don't roll around on the cobblestones with someone if you're not at least slightly open to the urgency of your own passions. But I see what they're getting at: 'I love you, but please stand still and shut up'.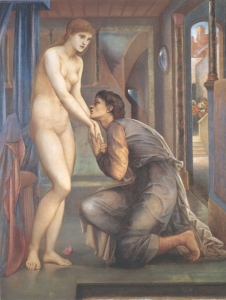 There's a surprising amount of Pre-Raphaelite art, considering the movement was so concerned with realism. Ford Madox Brown owned five lay figures at the time of his death (including a horse), and The Last of England was completed partially with the help of these figures. Critics noticed. There's a fun insult from the eighteenth century: "This painting stinks of the mannequin". Millais was better at hiding his use of lay figures. The Black Brunswicker required two so that the models – Dickens' daughter Katy and an army private not of her acquaintance – wouldn't have to hold such an intimate pose.
The fashion segment was particularly interesting. Earlier clothes modelling mannequins have far more physical agency than the ones you'll see in Topshop windows. These eighteenth century lifeless girls have hands that reach and gesticulate, and faces poised as if to speak. It was only in the nineteenth century that shop windows began to display disembodied hips and busts. A decline in tailoring to the individual? Or a less sinister preference for cheap mass production?
Overall, Silent Partners is an impressive undertaking and hugely interesting – and free! I'll be returning at least once. The only downside was the lack of labels on the large photographs dotted around the other galleries, because I loved them but couldn't find the photographer's name. It's probably my shortsightedness, but somebody enlighten me, please.
Silent Partners is on at the Fitzwilliam Museum of Cambridge until the 25th Jan 2015, and then the Musée Bourdelle in Paris from the 31st March until the 12th of July 2015.