Every year, around September, the nightmares start. I've lost the ability to cook, or forgotten to buy presents, or – and I had this one last night – a completely imaginary cousin is having a breakdown over the sprouts because he can't afford to move out of his parents' house and what are you going to do about it, Verity?!
Wading through the syrupy supermarket ads, the money-grabbing pop songs, and all that infernal fruitcake, we've forgotten that midwinter was once a time for ghost stories, when our ancestors met around the fire to celebrate another year of narrowly avoiding the bloody flux. All that phoney Christmas cheer can be hard when you're spooky by nature, so I've put together a list of things that might just get you through…
Printer's Devil Court by Susan Hill
Misty winter evenings, strong drink, and Victorian medical students with too much time on their hands. It's a pocket-size ghostly novella that can be read in one sitting, and the punchline is Susan Hill at her effortlessly chilling best.
M.R. James' ghost stories by Nunkie Theatre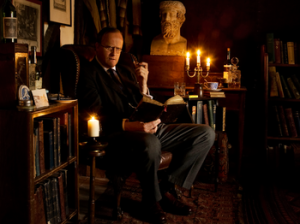 I've seen Robert Lloyd Parry read James' tales of the uncanny twice, in the flesh – in a candlelit medieval leper chapel, no less. Parry's softly-spoken delivery casts you back into an antiquarian age of fusty academics and sherry sipped alone by the fire. He is the next best thing to re-animating the author. You can buy DVDs and audio here.
Krampus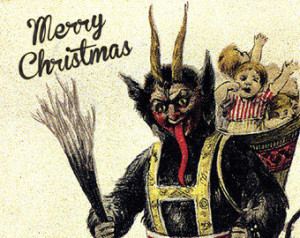 If you've ever worked Christmas in retail, you'll understand the appeal of a giant Germanic goat-man dragging naughty children away in chains. Krampus has enjoyed something of a Renaissance in recent years, so it's no longer hard to source hilariously macabre cards, ornaments, and festive jumpers bearing his grinning hairy visage. My own tree features a glass Krampus nestling amongst bat tinsel.
Christopher Lee's heavy metal Christmas singles
Thrashing as we go
In a hearse that knows the way
To hell we go!
Crying all the way.
"It's light-hearted, joyful and fun," he says. Thank God for Christopher Lee. His own Christmas tradition involves wearing Vincent Price's special festive hat.
The Haunted Looking Glass
Selected and illustrated by Edward Gorey, this is one of my favourite collections of ghost stories. Highlights include Dickens' 'The Signalman', and Stoker's 'The Judge's House'. Small enough to produce from your handbag during those hellish Post Office queues.
Jill Tracy – Silver Smoke, Star of Night
Because nothing fosters that festive glow in the heart like the minor chords of murky cabaret. Jill Tracy's voice is silk and cyanide. Her Christmas album features gloomy renditions of traditional carols as well as 'Room 19': "Tracy's tale about the forlorn spirit who haunts a desolate hotel room where he committed suicide Christmas Eve 1947".
Charles Dickens' hot gin punch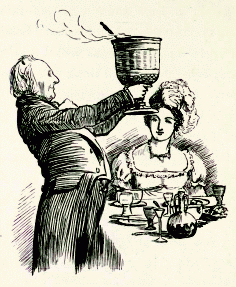 I sampled one or two of these at the recent London Month of The Dead, courtesy of Hendrick's Gin and inspired by Mister Micawber…
I never saw a man so thoroughly enjoy himself amid the fragrance of lemon-peel and sugar, the odour of burning spirit, and the steam of boiling water, as Mr Micawber did that afternoon. It was wonderful to see his face shining at us out of a thin cloud of these delicate fumes, as he stirred, and mixed, and tasted, and looked as if he were making, instead of a punch, a fortune for his family down to the latest posterity.
Gin lovers disagree on the finer points, but go ahead and experiment with the basic elements: gin, Madeira, lemon juice, sugar, spices, and boiling water. For a more authentic Victorian taste, perhaps swap dry gin for the harder flavour of Dutch genever. Punch doesn't have to be cosy; simply don a black veil and sit in a corner, a la Lady Dedlock, and brood over the intoxicating vapours.
There. Doesn't that feel better? Merry bleedin' Christmas. And roll on next Halloween.