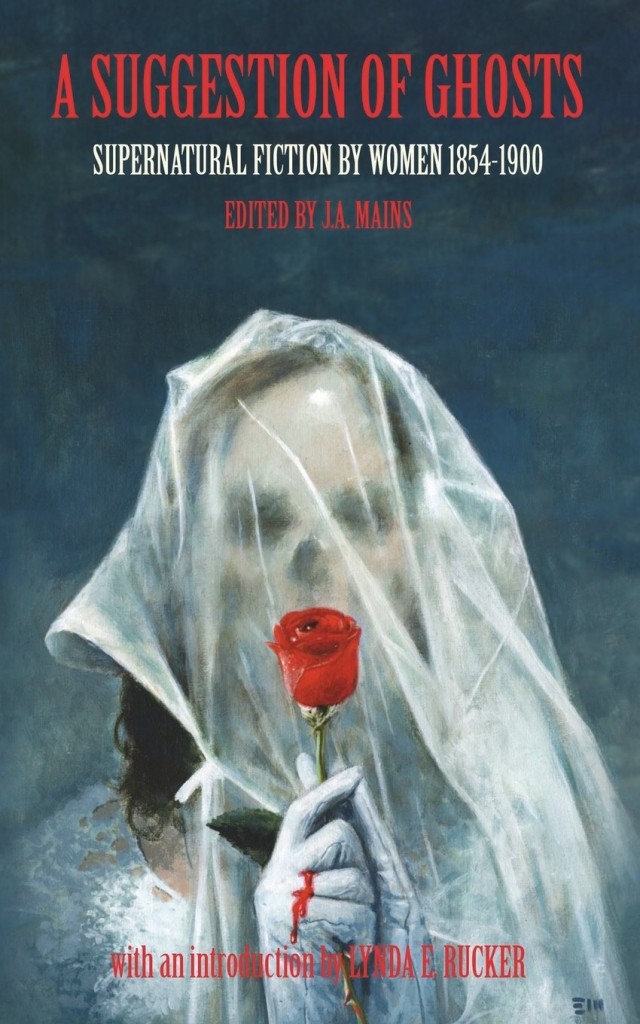 Ghost stories of the nineteenth century are enjoying a new lease of (un)life at the moment, with publishers scouring the archives for stories that have never since been republished or anthologised. Anyone who loves the genre knows the titles that regularly enjoy fresh publication, and, classic and beloved as they are, it can feel like they take up unnecessary space. There's a rich untapped seam of ghostly tales, especially by women, and Black Shuck Books are working to rescue these stories from obscurity.
I actually received A Suggestion of Ghosts last Christmas and haven't had a chance to get into it until now, but it's spooky season and I felt the need to expand my knowledge of hitherto unknown authors.
First of all, what a fun cover. You know you're in for a luxurious ride of delicious cliches. The collection is full of ancestral homes, hidden passageways, indomitable heroines with an eye for eligible bachelors, and a whole crew of spectres from the beyond. All the good stuff.
Of course, a good ghost story isn't merely about a ghost, and there's a range of interpretations of the form in A Suggestion of Ghosts. The collection shows what women authors of the latter half of the nineteenth century were doing with the ghost trope; fully indulging in the high Gothic or being more playful, working across genres.
The editor, J.A. Mains has typed out the stories by hand rather than relying on scanning software, so original spelling is preserved, which I appreciate. I love the biographical information on the neglected authors, too, some of whom published anonymously or only once. Others were prolific, like Katharine Tynan who published over a hundred novels and was championed by WB Yeats. There's a real mix here. Tynan, with her knowledge of Irish witch lore, managed to elicit an "Oh, gross!" from me, which isn't easy.
There are a couple of switcheroo type stories where the ghostly element is a device for a more straightforward romance. These were popular in ladies' magazines, being less risqué than Gothic tales or sensation stories. In fact, they were generally aping them. The Ghost of the Nineteenth Century by Phoebe Pember is one of these, and I didn't take to it, mainly because it's full of nasty racist asides. The author was a Confederate nurse during the American Civil War. At the Witching Hour by Elizabeth Gibert Cunningham-Terry is a much better example of an author playing with genre and cutting edge technology in the same vein as Bram Stoker.
There are, predictably, more stories about or by the aristocracy than otherwise. That's partly a genre thing (a sprawling ancestral home as your setting is basically the law) and partly a class thing (how many working class women of the late nineteenth century had the time, energy or encouragement to write?), but Lady Gwendolen Gascoyne-Cecil's The Closed Cabinet is actually one of my favourites of the bunch. A young woman staying at her childhood friends' home encounters rumours of a family curse, and though she laughs to be given 'the haunted room', the resulting nightmares lead her to make a terrible choice which might just change history.
But by far my favourite is A Speakin' Ghost by Annie Trumbull Slosson. No stately homes here, and no dazzling heroines with a queue of suitors. Written entirely in patois, I thought it was going to be a slog to read, but the story unfolds into sensitive study on what ghosts mean to lonely people, to the unwanted, and how a ghostly encounter can mean radically different things to different people. This is why I love ghost stories. I want to see what they can do.
Overall, A Suggestion of Ghosts is an enjoyable collection showcasing a range of authors' responses to supernatural encounters, ghost hysteria, and Gothic romance. There are authors who enjoyed success in their lifetimes, and those who only ever got one shot. This makes it an interesting and important snapshot of the period, and some of these tales will stay with me for a good while. Honestly, the more of these anthologies the better, and I'm happy to report Black Shuck Books have already published a sequel, which I'll definitely seek out.