In later life, Rossetti liked to shrug off his connection to the Pre-Raphaelite Brotherhood. To admirers, he gently dismissed the whole movement as "the visionary vanities of half a dozen boys."
To which I say "pah!", because tomorrow is the 164th anniversary of the formation of The Brotherhood – #PRBday on Twitter – and, unlike Claret Day, the celebration is officially sanctioned by The Pre-Raphaelite Society and not simply another excuse to drink red wine and look louche.
This is the autumn of the PRB. My date with The Tate is looming. I'll be meeting up with Kirsty of The Kissed Mouth and Robyne of Artistic Dress on the first Saturday to empty the Tate's shop of frighteningly expensive fridge magnets. Then, in October, it's straight to Kelmscott Manor for the little-advertised Edward Burne-Jones exhibition which will probably prove my undoing.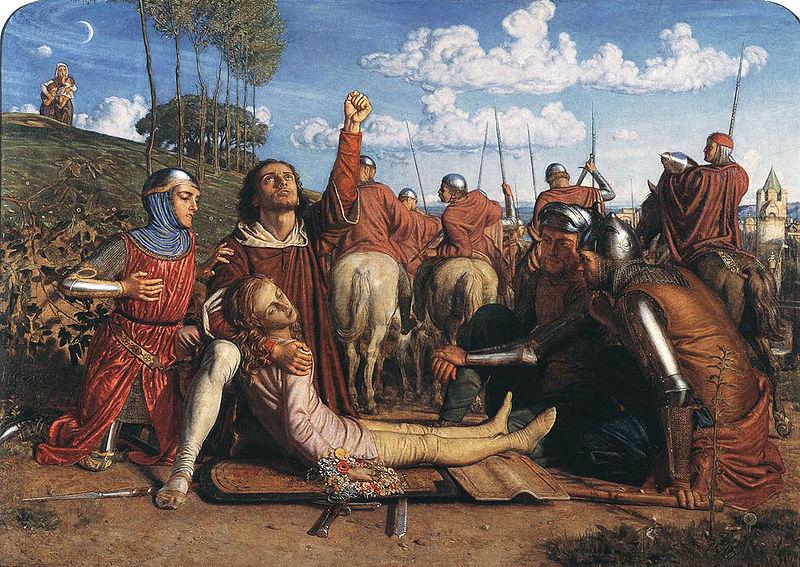 I've tried to avoid spoilers, but… The Tate has Holman Hunt's Rienzi (full title Rienzi vowing to obtain justice for the death of his young brother, slain in a skirmish between the Colonna and the Orsini factions – what were you thinking, Hunt, honestly?) which was on my wall for five years when I was a student and has been hidden away in a private collection for the entire span of my life. Rossetti modeled for the hero, hence the flying saucer eyes and the my-uncle-knew-Lord-Byron-actually hair. That's Millais, dead on the ironing board. If I can get a long, clear look at it, I'll be happy for years.
How will you celebrate PRB Day? Catch me on Twitter and vote for your favourite painting using #PRBday. I will be baking a cake in honour of great art.