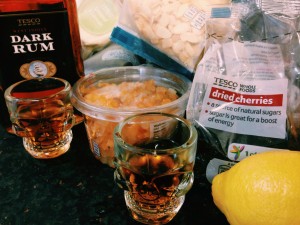 It's the weekend before the first Sunday of advent, traditionally the time to whip up your Christmas cakes and puddings so they have time to mature (i.e. get sufficiently saturated in alcohol you'll be comatose until Twelfth Night). In Britain, we make heavy fruitcakes with chopped almonds and candied citrus fruit peel, as well as puddings with a tarry consistency that we like to set on fire. The recipes haven't changed hugely since the nineteenth century, though we no longer put pennies or tiny dolls in our puddings because, well, death.

In my research for The Mighty Healer, I got my hands on a gorgeous little household almanac from 1870s Philadelphia. These flimsy books were printed to advertise patent medicines, with calendars, joke pages, and bits of first aid advice inside, so you'd keep it handy and suck up the advertising by osmosis.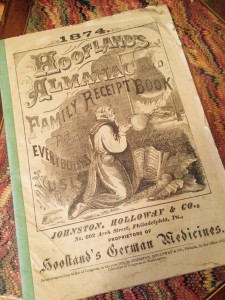 They also contained recipes. Some…more appealing than others. Here are some of the Christmas ones. Try them at your discretion/peril.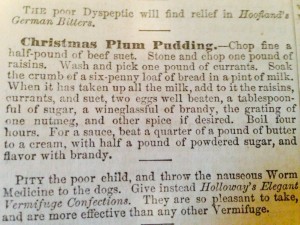 I'm not sure I can applaud the juxtaposition of beef suet with vermifuge purgative, but the Victorians did invent Christmas, so who am I to judge…
Next up is a more American dish, pumpkin pudding. Just the thing for the pangs of neuralgia.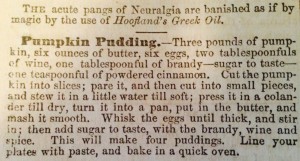 And finally we have Nun's Butter and Wine Sauce preceded by Hoofland's German Bitters, which were good for the appetite, apparently, what with being 25% alcohol.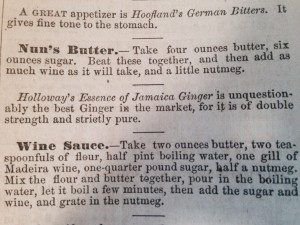 ADD AS MUCH WINE AS IT CAN TAKE. Nun's Butter sounds like the brandy butter we put on mince pies to make them palatable. It can also be used as an icing to rescue dry cakes. Trying to dig up the origin of the name, I came across French puff pastries called Nun's Farts. So there you go. Butter up a Nun's Fart.