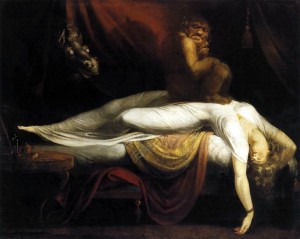 I used to be able to dream lucidly. It took practise. I had a notebook covered in Chinese silk that I kept beside my bed. Whenever I woke from a dream, I'd turn on the light and immediately write every detail down. After several weeks of this, I was an active player in my subconscious world. I could choose where to walk, what to look at, when to fight and when to run away. I wouldn't call it fun – to be inside and outside one's body simultaneously – but it made me aware that the world of dreams is as real and as valid as the waking one. You can find answers there that you can't in daylight.
That's the premise of Horsehead, a 2014 horror film directed by Romaine Basset. Jessica, a young woman studying the psychology of dreams, travels to her mother's home in France for the funeral of the grandmother she never really knew. Relations with her mother aren't any better, and when Jessica goes down the with flu, dreams are her only escape from their bickering. The fever, coupled with the bottle of ether she keeps sniffing, makes for some horrifying dreams, and she is quickly confronted by a horse-headed priest-beast called The Cardinal. When it emerges that her grandmother committed suicide, Jessica must follow her spirit deep into the subconscious mind to discover the secret The Cardinal is guarding with his scythe.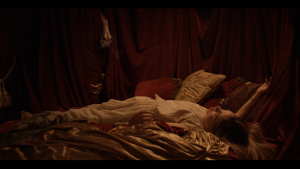 Firstly, this film pushes all my aesthetic buttons. Everyone will recognise the Fuseli Nightmare painting above, and most scenes are shot in that kind of amniotic red darkness suggestive of opiates and deviance. It's all very consciously Angela Carter-esque, with shades of The Company of Wolves in the costumes and the inventive gore. (Mild spoiler: it's not a gory film, per say, but if pregnancy-related violence is too much for you, you might want to give Horsehead a miss.) Jessica's mother lives in the kind of pretty, cobbled French village no normal human being could ever afford a house in, but by night it descends into medieval darkness. The quaint, winding streets take on a haunted quality as Jessica roams them in her penitent robes and Riding Hood cape.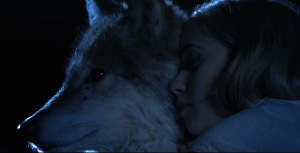 There's a constant sense of unreality which might annoy some viewers. Everyone speaks in an overly-deliberate way, even when Jessica is awake. George, the baritone caretaker, verges on something from The Dark Crystal, though the echoing industrial soundtrack (free of jump scares) keeps the film from becoming ridiculous. I liked that about Horsehead. If you're going to have a literal horse-headed monster lumbering about, unreality is something you need to embrace with enthusiasm. Though the family do keep the dead grandmother upstairs for an awfully long time.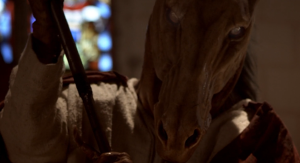 If you enjoy visually-striking, thought-provoking horror or fantasy, you'll likely love Horsehead. If you prefer quests and defeatable demons, however, there's likely more reading between lines than you'll have patience for. Horsehead belongs thoroughly in the realms of the subconscious.