It's no secret that Fred Stephens has a special place in the hearts of Pre-Raphaelite acolytes. 'Swoony Fred' to the initiated, because, well…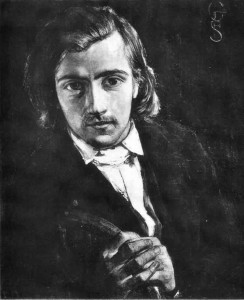 Yes.
Frederick George Stephens was one of two non-artistic members of the Pre-Raphaelite Brotherhood. Stephens tried his hand at painting and poetry, but, dissatisfied with his efforts, reportedly destroyed most of his paintings (a handful now hang in the Tate) and turned away from poetry:
Most sadly falls this life on me,
With noble purpose unwrought out:
The steeled soul rusteth thro' the day;—
My life it flitteth fast away.
Poor Fred. He stuck instead to criticism, writing for the Athenaeum for forty years until his conservative views on British art and dislike of Impressionism caused friction. Despite the growing paranoia and grumpiness of his Pre-Raphaelite associates in their old age, he remained a steadfast friend and one of the most 'sensible' figures in the bunch.
I've got my hands on an original copy of Stephens' 'Dante Gabriel Rossetti', gifted at Christmas 1897 to a Miss Foster from Emma V. Roberts, who clearly knew how to spoil her friends.

Stephens was aware of the race to the publishing houses in the wake of Rossetti's death. The outpouring of grief and praise (for a fee) from those who barely knew the man bothered him, as did the bickering of his former Brothers. While some placed Rossetti at the helm of the PR movement, other recalled him floating along in his own bizarre bubble, and others still – particularly an increasingly batty Holman Hunt – were unhappy with the cultish following Rossetti had accumulated ("Rossetti was the planet round which we revolved," gushed Valentine Prinsep), and took pains to defend their own place in the movement's history.
In 1894, Stephens published his own biography of his old friend. It's a short, affectionate book with vivid, amusing descriptions of the early scenes of Rossetti's life, including the "respectable, but dull" Charlotte Street with its "opposing lines of brick walls, with rectangular holes in them, which Londoners call houses".
It also contains my favourite description of the student Rossetti in full-on self-conscious Romantic mode, by an anonymous 'fellow student' (possibly Fred himself) who had evidently been staring a bit too intently:
"Thick, beautiful, and closely curled masses of rich brown much-neglected hair, fell about an ample brow, and almost to the wearer's shoulders; strong eyebrows marked with their dark shadows a pair of rather sunken eyes, in which a sort of fire, instinct of what may be called proud cynicism, burned with a furtive kind of energy, and was distinctly, if somewhat luridly, glowing. His rather high cheek-bones were the more observable because his cheeks were roseless and hollow enough to indicate the waste of life and midnight oil to which the youth was addicted; close shaving left bare his very full, not to say sensuous, lips and square-cut masculine chin. Rather below the middle height, and with a slightly rolling gait, Rossetti came forward among his fellows with a jerky step, tossed the falling hair back from his face, and, having both hands in his pockets, faced the student world with an insouciant air which savoured of defiance, mental pride and thorough self-reliance."
I love that. Have you ever described one of your friends so minutely?
The book itself is rather fragile, one-hundred-and-twenty years on. The tissue paper over the illustrative plates feels like dried petals. Luckily, you can read the text in full at the Rossetti Archive.