In this house, we like horror and we love American Horror Story. The latest series, 'Coven', follows a school for talented young witches in New Orleans, and you should be watching it.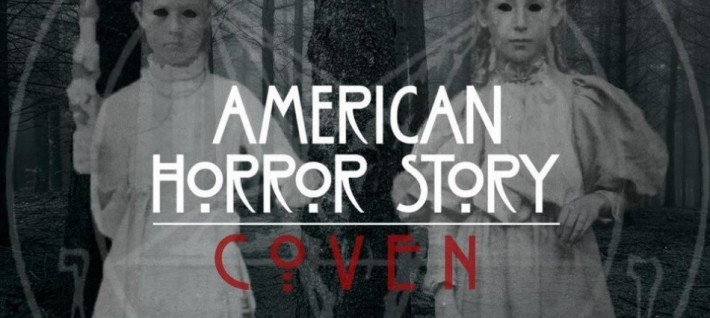 It passes the Bechdel test. Every episode. In fact, all three series of AHS features women talking to women about things other than men. This is so damn refreshing. See, screenwriters? It isn't difficult.
The magnificent sets revel in all the trappings of Southern Gothic: dreary swamps, ramshackle cemeteries, and grand white houses with jazz drifting in from the streets and bars. You can almost taste the mint juleps.
Myrtle Snow's costumes by Lou Eyrich. She is flawless.
The music. Stevie Nicks is a keystone of the Coven series; her lyrics a thread to follow. All three AHS series have made use of a spectrum of music, including Carina Round, Pete and The Pirates, and Soeur Marie's Dominique – which will now be stuck in your head for all eternity.
Jamie Brewer. An actress with Down's Syndrome who isn't there purely to demonstrate the protagonist's compassion, isn't asexual, and consistently gets good lines. Brewer also features in the first series – 'Murder House' – without as much complexity, but the writers are clearly interested in diversity without tokenism, and that's something I think audiences really want to see.
Kathy Bates as serial killer Delphine LaLaurie. Horror fans will already be warm to Bates, and, as you'd expect, she looks 100% at home scowling in a frumpy antique frock. Though Madame LaLaurie is a cartoonish character, AHS uses her to explore the deeply entrenched racism of America's South through her grudging friendship with witch of colour, Queenie, played by Gabourey Sidibe. It isn't unproblematic by any stretch of the imagination, but it's good to see a fantastical mainstream TV series touching on actual social horrors. When LaLaurie attempts to excuse her vicious past with "I was a woman of my time", Supreme witch Fiona responds: "That is a crock of shit."
Cheese. AHS is unashamedly cheesy. Witches casually playing theremins, your requisite zombie uprising, teenage necromancers flouncing around in impossibly high heels and sunglasses…it's silly. And silly is good. Watch it.