September the 8th is PRB Day – your annual chance to vote for your favourite Pre-Raphaelite painting. This year is extra-special, being The Pre-Raphaelite Society's 25th anniversary.
Founded in September 1988 (I was two!), the Society's Review remains a great source of information and discussion – keeping the PRB as fresh and relevant as the day half a dozen boys got together in Millais' living room and wondered if 'brotherhood' would make them sound like the clergy.
Last year, I voted for the 1860 Regina Cordium. I love the way Lizzie's red beads cascade over her sickly green flesh; the queen of hearts languishing in a respiratory clinic.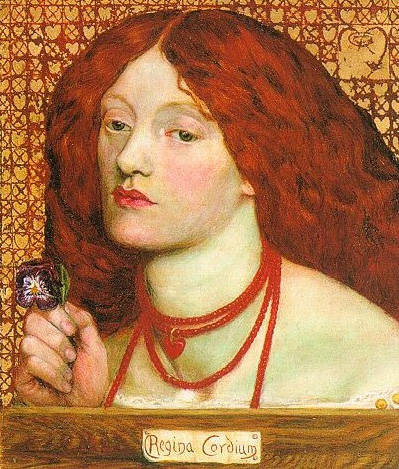 Tweet @PreRaphSoc with the hashtag #PRBDay and vote for your favourite Pre-Raphaelite painting. Last year's winner was Millais' Ophelia, but I think we can do better than that, don't you? (Child genius = basically cheating, right?)