Thank you to everyone who has already downloaded Contraindications.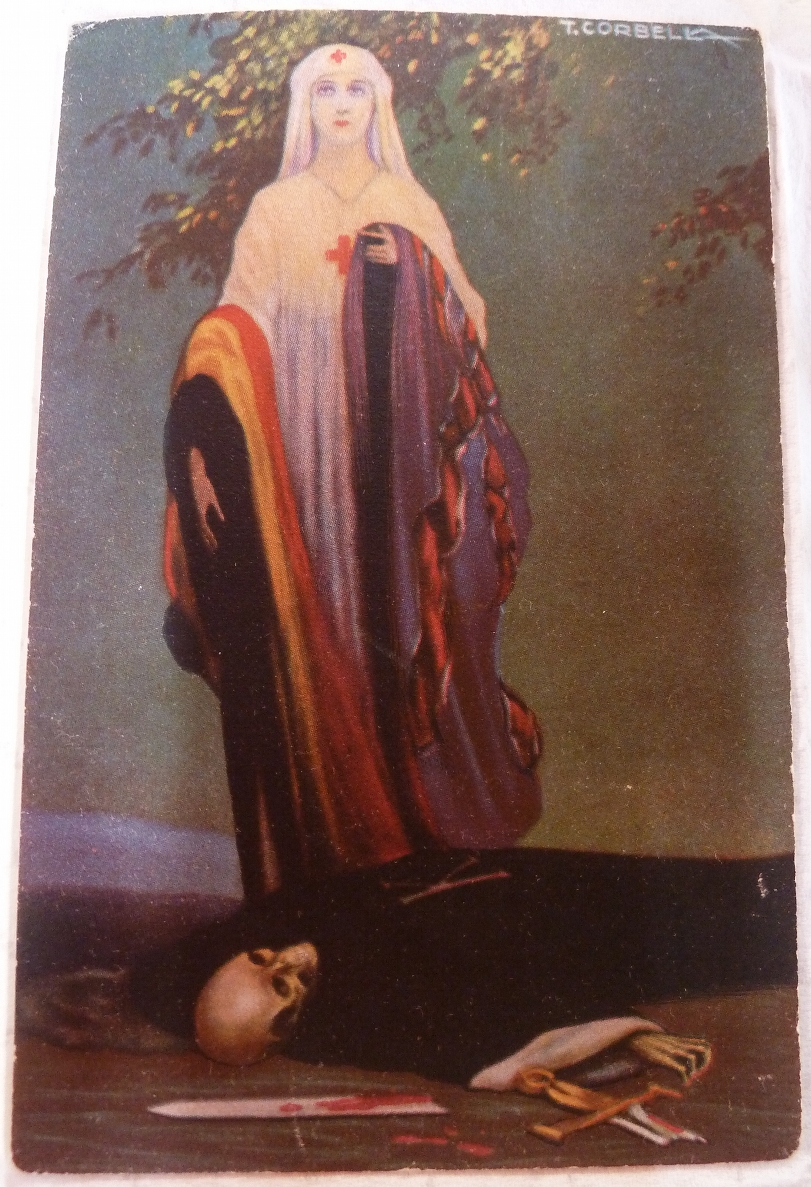 We arrived back in London two days ago to a dismal reception of rain and royalty, but I could talk for weeks about Venice. The aftershocks of the earthquake 80 miles away (which I mistook for one of my dizzy spells until the doors began to rattle); Watching dumbstruck from our darkened kitchen as a tremendous electrical storm battered Lido with white strobe light; The sad sight of St Mark's Square flooding at night, as if the Doge had left his bath running…
But of all the wonderful things the city had to offer, my favourite was this 3 Euro postcard.
I found it – along with some startlingly expensive tin ex votos – on a market stall run by two little old ladies who managed not to laugh at my bad Italian.
After scampering away with my prize, I wondered if the skeleton was King Cholera, hence the K, but after some Googling, it turns out that this postcard is called The Victory of The Victim. It's the final card in a series of six commemorating the shooting of nurse Edith Cavell in 1915. Here they all are, in their shameless gothic glory. Higher resolutions scans of four can be found here.
I'll admit I don't know much about Edith Cavell beyond the fact that she was from Norfolk and that, by killing her, the Germans created an Allied martyr whose image went global in days. And it's little wonder. Artist Tito Corbella, usually so frothy and Art Nouveau, turned Cavell into a Madonna-like wraith wafting around on a background of bloody hellfire, while Kultur (the symbol of German supremacy, replete with cloak and harpsichord) might as well be played by Peter Cushing. For someone so accustomed to painting pretty pastel frocks, Corbella had form when it came to propaganda.
Interestingly, the English batch of Corbella's postcards were printed in London's Red Lion Square, where Rossetti lived on two occasions. Small art world.
The idea of an international martyr from Norfolk is a touch surreal. It's Norfolk. Norfolk. That flat black wasteland of impassioned fiery doom, and… Bernard Matthews. And the image is so Italian. That stare. Those fetishised silent film lips. I love it. What a find.