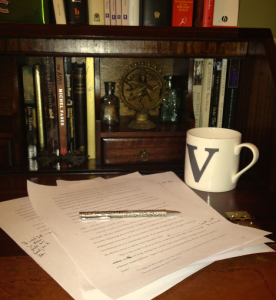 Writers are lone wolves by nature, but when we work in packs, our words have bite.
Let's work together to get what you want out of your writing.
On top of a Distinction MA in Literature, I have several years of professional copywriting and editing experience in the commercial field, plus literary publications and awards. Whatever you're working on – essays, short stories, novels, articles, or commercial pieces – I can offer that all-important professional eye to make your writing stand out in a competitive marketplace.
I will:
Proofread
I'll weed out the little mistakes publishers and examiners don't want to see.
Copyedit
I'll give you trimming and tightening suggestions to make your copy sing.
Advise
For fiction, I'll take a close look at structure, characterisation, dialogue, and whatever else is bothering you. Any genre, any length over 1000 words. If you're wondering 'Does this story work? Does it make sense?', then I can help.I charge £10 per 1000 words for each service, with discounts for work over 10,000 words.
For historical fiction, I will:
Verify
Do you know your bangtails from your Bow Street Runners, and your Bazalgette from your Brunel? I've spent over a decade studying Victorian Britain, and I'm a practising Victorianist with experience from academia to re-enactment. If your 19th-century sensation novel contains a fatal anachronism, I'll catch it.I charge £15 per 1000 words, with discounts for work over 10,000 words.
Submission guidelines:
Contact me for a quote using the form below. Let me know what you want from your piece – proofreading, literary advice, copyediting, or more than one of these services. Please have your documents ready in a Word file to send as an attachment later.
All advice is confidential. Let me know if you're working to a deadline. I accept Paypal only.